Get to Know the Arrangements You Need to Make When Your Pet Arrives at Your Place
Even though Chinese water dragons are friendly pets, you need to have a few arrangements in place to help them adapt to their new home. Doing these arrangements also create a positive relationship between you and your new pet.
Water dragons are healthiest in enclosures that are large and contain water. You can provide an enclosure that resembles their natural habitat. The enclosure you choose should be very large with a screen top for proper ventilation. You can find useful information on creating dragon enclosure in Chinese Water Dragon Cage Setup. Your pet has strong, muscular legs so it is better you give it plenty of space to run, jump and climb.
You should wait for a couple of weeks and then try holding your pet. If the dragon is unfamiliar to humans, it can get aggressive at the start. You should never try to grab your pet too hard or pull its tail. This can stress the dragon and cause the tail to break off.
You should also make a checklist for your dragon's favorite snacks and playing objects. Remember water dragons listen to you very carefully. You can also talk to your pet to make it more familiar to its captive environment.
You should work with your dragon preferably 15 minutes in the initial days to have a nice and calm pet. Once your dragon becomes used to its new home, you can start spending more time with your pet. Baby dragons get frightened easily therefore you should keep them away from loud noise. You also need to move around them pretty slowly as juvenile and even adult dragons are startled by shadows and fast moving objects.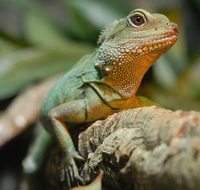 This is because they interpret the shadows as predators or anything that can harm them. Your dragon may also get very skittish and attack you in response thinking that you might eat it. You should hold your pet only if it feels relaxed in your company.
If your water dragon appears scared or continues to bang its snout on the glass enclosure even after many days, may be there is something wrong. Water dragons have different moods during the breeding season but otherwise, they are not aggressive towards the owner. You should try to find out the exact reason your pet is behaving so differently.