Discover Top Reasons You Should Bring Home One of These Attractive Reptiles
Chinese water dragons are popular as pets due to their friendly personalities. You will surely be impressed by these pretty lizards as they are more than display pets. They can be affectionate and become attached to you. Most water dragons love being pampered and taken out.
In terms of housing, these lizards don't have the easiest requirements but they do well in enclosures where all their needs are addressed in the best possible way. Chinese water dragons are friendly with humans, but are happier when kept alone in the tank. Keep in mind these calm and cool lizards can get extremely aggressive if they are annoyed.
You can easily handle your dragon if you show patience and gentle treatment. Chinese water dragons love to live in large space. They are not fond of excessive handling therefore you should watch them explore their enclosure from a distance. If you want to handle your pet, make sure you do it in the right way to have a wonderful companionship.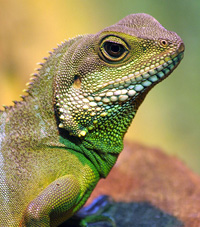 Chinese water dragons are quite entertaining when they climb branches or dive into the water tray for a quick bath. If you let them out in your living room, they love to explore every object placed in the area.  This can be amusing at times, but turn serious if the object is toxic to your pet.
Once the water dragon becomes familiar with you and its new home, it is less likely to struggle or feel stressed. They are fairly intelligent and try to do different things everyday. You will definitely want to spend time with your perfect "smart" pet.
Checklist for Buying a Chinese Water Dragon
Essential checklist for buying a pet.
Be a Good Owner – Are You Ready to Welcome Your New Pet?
Get to know the arrangements you need to make when your dragon arrives at your place.
Where to Buy a Chinese Water Dragon?
Know the best places you can find chinese water dragons looking for a new home.
Cannot Hold Your Beloved Pet Any Longer?
Learn the right way to part ways with a chinese water dragon.