Learn the Right Way to Part Ways with a Chinese Water Dragon
You may be worried if you have a water dragon but cannot hold it any longer. It may be really hard for you to get rid of a pet that is friendly and entertaining. Sometimes dragon owners cannot hold their pet for personal reasons and are worried about what needs to be done next. If you are moving to a new place and your dragon cannot accompany you, you need to find him a good home.
You should also consider this option if you feel your dragon requires more than what you can actually give your pet. It is highly recommended that you DO NOT LEAVE YOUR DRAGON IN THE WILD. Water dragons that are bred in captivity cannot survive in the wild environment as they are not familiar with it. As a responsible owner, you should not leave your Chinese water dragon neglected and unattended.
Remember these lizards are highly sensitive and require optimum heat, light and temperature to stay healthy. It is likely that if your dragon gets sick or even die if there is no one to look after it. Even if you decide to come back after an extended period of time, it is better that you give away your dragon to a safe pair of hands.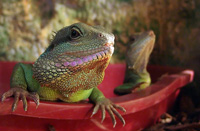 You can find a number of reptile owners that will happily take care of your new pet when you are not around. You can even handover the dragon supplies such as enclosure, décor elements, food and substrate to the new owner to avoid delay in making the necessary arrangements. If you are unable to find a responsible owner for your pet, you should consider giving your dragon to animal rescue or shelter groups that take care of reptiles.
Chinese water dragons require a great deal of time and commitment from your side. You should only buy them as pets if you feel you have the time and money to care for them. If you are a good owner but cannot keep this wonderful lizard due to personal reasons, you can also contact breeders and pet stores that will help find a new home for your beloved pet. You should consider these options if you don't want to see your pet getting hurt.